TealNotes
1.20
Insert freehand graphics anywhere with TealNotes "sticky notes" for Palm OS. TealNotes can be inserted into memos, to-do lists, address book entries--almost anywhere you currently
TealNotes Publisher's Description
Digital Graphic Sticky Notes: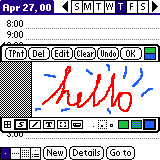 Sticky Notes
Insert freehand graphics anywhere with TealNotes "sticky notes" for Palm OS. TealNotes can be inserted into memos, to-do lists, address book entries--almost anywhere you currently have editable text.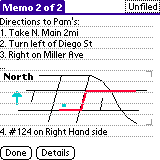 Feature Highlights
Works with ordinary apps
Color and monochrome notes
Four note sizes
Three brush sizes
Freehand draw tool
Box tool
Line tool
Erase tool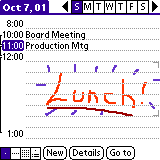 Available when you need it
Now there's no need to mess with Graffiti just to jot down a quick note or number. Maps, illustrations, and diagrams can coexist right alongside text, exactly where they're needed.

- Essential -
An essential addition for most people's organisers, TealNotes is a genuinely exciting and imaginative utility that breaks new ground for both Palm OS and its users.
PalmUser Magazine

A leading provider of software solutions for handheld devices, TealPoint Software currently offers 26+ productivity products for the PalmOS platform. Selections include TealDoc, the superior document reader, TealMovie, the award-winning multimedia player, TealAuto, the complete vehicle service and expense log, TealPhone, the replacement address book, and TealLock the definitive PalmOS security solution.


Take advantage of TealPoint's Free 30-Day Trial Policy on all products.
Look for Similar Items by Category
Feedback